Video Footage From the D.C. Underride Crash Test Event
Video Footage From the D.C. Underride Crash Test Event
If you were not able to witness the Underride Crash Tests in D.C. in person on March 26, then the next best thing is to see the media coverage of this important event and to view the video footage of all three tests of a car colliding at approximately 30 mph with the side of a tractor-trailer:
The first crash test was into a trailer with an AngelWing side guard — SUCCESSFUL because it prevented underride and Passenger Compartment Intrusion (PCI).
The second crash test was into a trailer with a SafetySkirt side guard — SUCCESSFUL because it prevented underride and Passenger Compartment Intrusion (PCI).
The third crash test was into a trailer with NO side guard (as is the situation with 99.9% of the trucks on the road today) — SUCCESSFUL in that the devastating underride which occurred clearly showed what it is that the other two tests so importantly prevented.
VIDEO FOOTAGE from MGA Research of all three crash tests can be seen here:
Third test with NO side underride protection:
Compilation of all three crash tests, including aerial views & views from inside the car:
Here is some of the media coverage of the D.C. Underride Crash Test Event:
AngelWing crash car: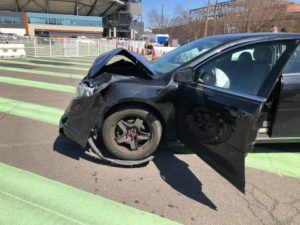 SafetySkirt crash car: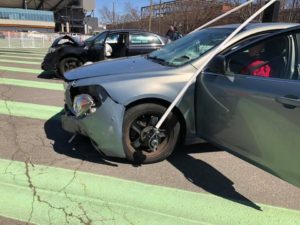 Unguarded crash car: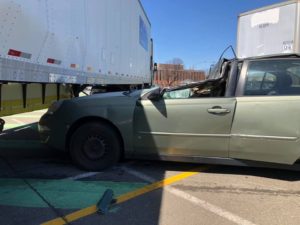 We hope that this event will continue to raise awareness and that our message to Congress will grow stronger as people sign & share this petition: Congress, Act Now To End Deadly Truck Underride!
If you include your zip code, your signature will generate an email telling your legislators to co-sponsor this life-saving legislation. Please add a Comment, when you sign the petition, which will be included in that email.
Hundreds of people die every year when pedestrians, cyclists, motorcyclists, and passenger vehicles go underneath trucks. Over 4,000 have died during the past 19 years since the last underride regulation was issued in 1998. Families of victims and safety advocates are calling for an end to preventable truck underride tragedies.
It can happen to anyone — even if their car has a 5-Star Crash Rating. It can happen anywhere. It happened to 17-year-old AnnaLeah and 13-year-old Mary Karth when their car went under the rear of a semi-trailer in Georgia on May 4, 2013. And it happened to 26-year-old Roya Sadigh when her car went under the side of a truck in Indiana on November 24, 2004.
U.S. regulators have debated for decades about how to stop the tragedy of underride deaths — including, since 1969, the possibility of requiring underride protection to be added to the sides of large trucks. But they have not done so, even though engineers have already found ways to solve this problem.
It's time for Congress to mandate that the National Highway Traffic Safety Administration update underride regulations, and for the trucking industry to install effective underride protection. The STOP Underrides! Bill — introduced by Senator Gillibrand (D-NY), Senator Rubio (R-FL), and Congressman Cohen (D-TN) on December 12th will allow creative engineers to put effective underride protections on every truck, and help end preventable underride tragedies.
Together we can make the roads safer.
For more information, go to: annaleahmary.com
Cool Breeze Studio has recently released a documentary, Save Lives – STOP Underrides!, that tells the stories of underride victims and their families.