Now is the time to take action which can STOP Underrides!
Now is the time to take action which can STOP Underrides!
CALL TO ACTION
When a vehicle goes under a big truck, it's called an underride crash.  This type of crash is extremely dangerous and completely preventable. Installing better guards on big trucks would prevent this type of crash.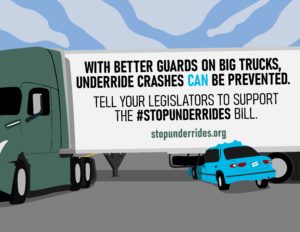 Become part of the solution by appealing to the Secretary of Transportation, Elaine Chao. Ask her to use her authority to get the ball rolling right away for DOT to make strong underride protection a requirement. Here are instructions:
How to Submit a Public Comment
to Secretary Elaine Chao
for an Underride SNPRM
1. Click here
3. Provide contact information. (Optional, but forces the Secretary to respond personally to your petition.) Your mailing address and email address will NOT be posted online.
4. Important: Select the Category "Application/Petition."
5. If desired, add attachments, including photos and the
SNPRM Petition.
6. Submit.
NOTE: Write your Comment using your own words. You can write a maximum of 5000 characters but don't have to use them all. Tell her WHAT you want her to do — Require strong underride protection on trucks which she can do via an UNDERRIDE Supplemental Notice of Proposed Rulemaking — & WHY it is important to you.
You can see an example here.
Thank you for taking this action!
If you have not already signed it, here is the STOP Underrides Petition.
You can also send an email TODAY to U.S. Legislators in Congress. Tell them that you want them to support Underride Legislation in the Infrastructure Bill.
Members of the U.S. Congress
U.S. Senators – Get contact information for your Senators in the U.S. Senate.
U.S. Representatives – Find the website and contact information for your Representative in the U.S. House of Representatives. Find your Rep by zip here.
You can also tag them on a Tweet. Use these hashtags: #STOPunderrides #UnderrideVictimsMatter.
Thank you for taking action. Share this message with your friends so we can make a significant impact at a crucial time.